Written by

Beau Sanders
We had a great time on January 14, 2020 at our first Lunch Meetup of the year. Twenty-four of our classmates got together at Eggs Up in McAlister Square. If you look close at the picture below on the right side between Phil Blackwell and Beau Sanders that's Murry Judy all the way from San Diego.  Every month new classmates join the lunch group. We hope you can be with us too. Our next Lunch Meetup in on Tuesday, February 11th at 11:30AM. We meet the second Tuesday each month at at Eggs Up in McAlister Square.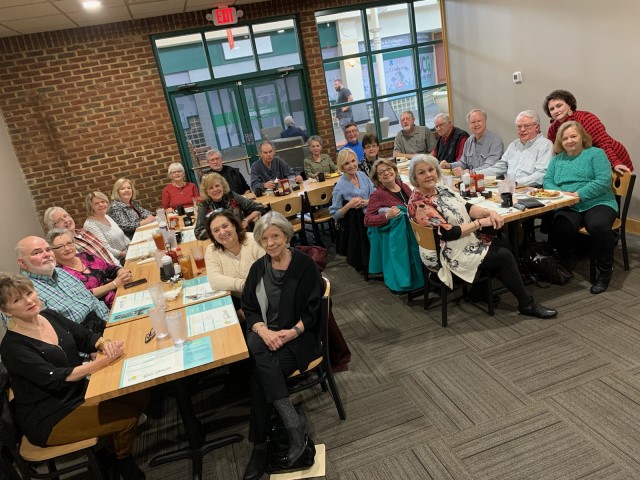 Written by

Beau Sanders
Log in to our website to see Noah Hendricks' video of the 50th Reunion Memorial Service.  Log in and click on 50th Reunion Memorial Video in the member menu on the right of the screen. You can view this video in your Firefox, Chrome, Microsoft Edge, Safari, or other current web browser. Thanks to Noah for videoing this event for us. 
Written by

Beau Sanders
Our first batch of pictures from the 50th Reunion are now posted on our website. Thanks to Hugh Pennell for taking 130 great photos documenting our historic 50th Reunion. You will find Hugh's photos posted in our Photo Gallery.  
We have more pictures to process when time permits. Thanks to Kathryn Gaffney, Noah Hendicks, Bink Nejtek, and Gwen Crosland for sending pictures; we will get those posted soon. Noah provided us with video of the Memorial Service which we will post after some post-production.
To see all the pictures, visit http://greenvillehigh1966.com and click on Log In. Once you are logged in, click on the Photo Gallery link in either menu.
If you have forgotten your password, click on Log In and then click on Forgot your password. Follow the instructions to reset your password.
We want to post your pictures too. Please send them by email to This email address is being protected from spambots. You need JavaScript enabled to view it. or mail a DVD of your pictures to Beau Sanders at P.O. Box 8599, Greenville, SC 29604.
Thanks again to everyone that took pictures at our reunion.