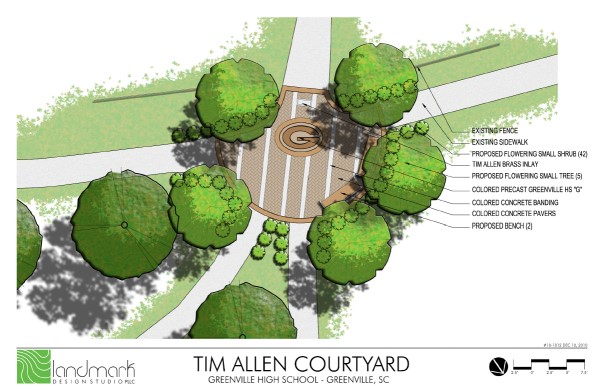 Click on image to enlarge

TO THE MANY FRIENDS OF TIM ALLEN
Please join us in a project at GHS which will be built in Tim's honor. We have received approval from the school district to construct a small courtyard that will act as an entrance to the existing senior courtyard in front of our beloved school. This project will cost approximately $10,000.00.
Tim Allen loved his alma mater, touched all our lives and made us want to become better citizens. We would greatly appreciate your financial help in order to start this meaningful campaign. We want to collect the needed funds and begin this project as soon as possible with completion sometime this spring.
This is a tax deductible contribution and checks are to be made out to Greenville High School with a notation at the bottom to read "TIM ALLEN PROJECT". Please mail your check to Post Office Box 16135, Greenville, South Carolina 29606.
If you have any questions and need additional information, please call any member of the committee listed below, or send an email to This email address is being protected from spambots. You need JavaScript enabled to view it. which will be delivered to all members of this committee.
Thank you so much for your consideration and thoughtful gift in memory of the man who left us with a genuine and constant smile.
Respectfully yours,
Jim Calmes
On behalf of the Tim Allen Project Committee
Send email to:
This email address is being protected from spambots. You need JavaScript enabled to view it.
Charles Hardaway
864/370-7281 (Office)
Greg Gault
864/360-9285 (Cell)
Hugh Pennell
864/630-0345 (Cell)
Robert Gage
864/630-1874 (Cell)
Jim Calmes
864/915-7743 (Cell)